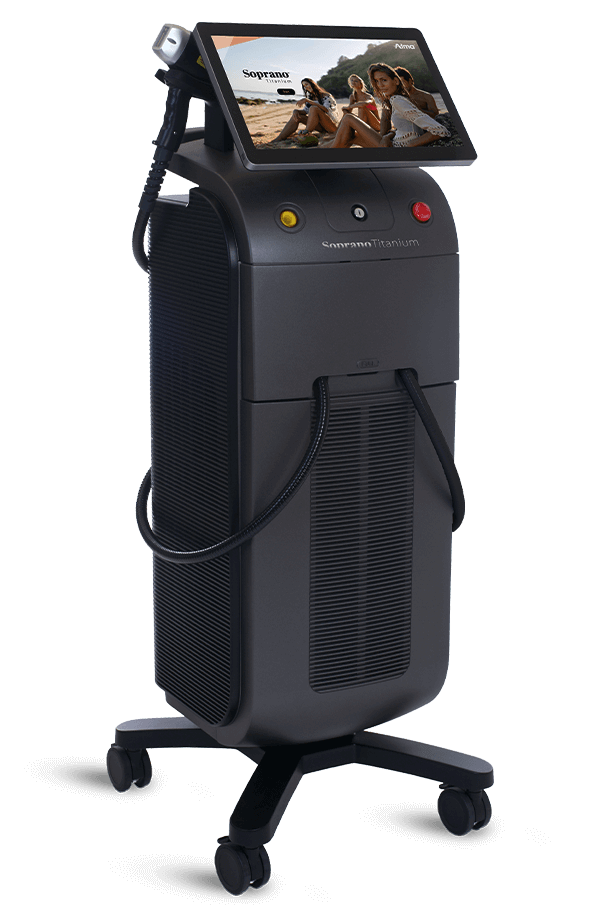 The Complete Solution for Hair Removal
Remember no-pain, no-gain? It doesn't have to apply to laser hair removal. Alma's Soprano Titanium offers the right benefits that culminate in a treatment that minimizes the chances of negative side effects and maximizes patient comfort.
FDA cleared for all skin types (Fitz I - VI) and tanned skin safe to treat patients all year round.
Please Check the "FAQ" in this page before your appointment
Gold standard 755nm Alexandrite, 810 nm Diode & 1064 nm YAG all in one!
Soprano Titanium is the most complete and effective hair removal solution available today. By incorporating multiple laser wavelengths and technologies, Soprano Titanium allows practitioners to treat the widest range of patients and hair types all year round, administer treatments quickly and comfortably and achieve the best possible clinical results.
Soprano Titanium uses Alex 755nm, Diode 810 nm & 1064nm YAG lasers technology, the GOLD Standard in laser hair removal since its introduction in 1988. Unlike earlier systems, however, Soprano Titanium energy penetrates deep into the dermis (where the hair follicle is located). By combining the benefits of the Alexandrite wavelength with the advantages of a solid-state laser, Soprano Titanium offers cutting-edge in hair removal technology and treatment methods.
The Alma Laser Soprano Titanium SHR Hair Removal at the Medical Aesthetics locations provides a new level of effectiveness and convenience with long lasting results. Lasers are the fastest and most efficient system for hair removal. Laser hair removal uses light energy to disable hundreds of hair follicles with each flash of light. Laser treatments are less painful and less costly than other alternatives. And you can return to normal routine activities instantly. It's easy to see why laser hair removal has gained extensive acceptance and is now the treatment of choice for both men and women.
Technology
Soprano Titanium features Alma's unique Alex Technology which combines the high absorption benefits of the Alexandrite 755nm wavelength with the treatment coverage, comfort and low maintenance of the diode laser. Advanced ICE technology cools the skin during treatment for longer periods of time, minimizing the risk of burns while maintaining heat within the dermis where hair follicles are treated. The result is a cutting-edge hair removal solution that delivers superior results for all skin types- including dark skin.
Together, the Soprano Titanium platform offers the most complete and effective hair removal system available to date.
FAQ
Do I want to enjoy permanent hair reduction?
Am I tired of a temporary fix that can often be painful?
Would I like a method that saves money over time?
If you've answered "YES!" then laser hair removal might be the right decision for you.
How does SHR ( Super Hair Removal) laser hair treatment work?
SHR works by gradually heating the dermis to a temperature that effectively damages the hair follicle and prevents re-growth, while not injuring surrounding tissue. Called IN-Motion, SHR combines high average power, low fluence, and a high repetition rate; gradually increasing the temperature of the hair follicle by stacking the laser pulses as the handpiece is continuously moved over the treatment area.
SHR gradually heats the skin until the required cumulative energy is delivered to the hair root. By not exposing the hair root to a single high-energy pulse, SHR doesn't cause trauma to skin with high melanin count, making it one of the most reliable and effective laser hair removal options for dark-skinned individuals. Furthermore, SHR treatment can be performed any time during the year, as sun exposure is less traumatic to the skin following SHR treatment.
​
Before your treatment
Sun Exposure -- Please prevent any direct sun exposure, tanning beds and tanning creams for 1 week prior to your treatment. Don't worry about tanned skin after a week, our laser is the ONLY FDA cleared laser for tanned skin, so we can safely treat you after a week of your tanning!
Medication -- Please notify our medical staff about any medications or antibiotics you are currently using or just finished that has any light sensitivity. We will not be able to treat you if you are taking certain light sensitive medications (such as doxycycline, tetracycline) so please notify us prior to your appointment. If you are taking Accutane we won't be able to do laser treatment on you. Accutane makes your skin sensitive to light and medically is prohibited to do laser treatment on you.
Any kind of cream that has Retinol or Retin A products in it should be stopped 2 weeks prior to the treatment.
Please DO NOT thread, wax or pluck the hair on the area of the treatment 4-6 weeks prior to your laser treatment.
Please DO shave the area of the treatment before your laser treatment.
After your Treatment
Please Avoid Any Direct Sun Exposure for 2 week to the area of the treatment
Please Use UVA UVB broad spectrum sun screen SFP 50 for a week.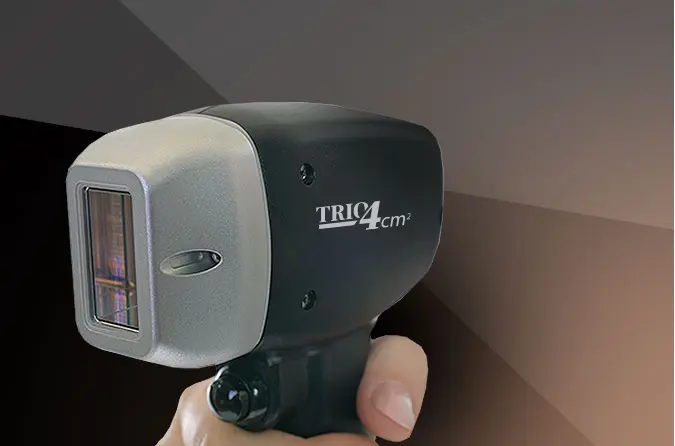 Areas of the treatment:
Small Areas ($60/ Session)
Chin
Upper lip
Medium Areas ($95/ Session)
Sideburns
Hairline
Areola
Cleavage
Jawline
Cheeks
Underarms
Front of the Neck
Back of the Neck
Happy trail or navel
Hands
Elbows
Feet
Knees
Large Areas($175/Session)
Full face ( without forehead)
Beard ( front of Neck NOT included)
Women's Lower arms
Women's Upper Arms
Women's Shoulders
Women's Chest
Women's Brazilian/ Bikini OR Regular Bikini
Women's Abdomen
Women's Upper Back
Women's Lower Back
Women's Buttocks
Extra Large Areas($225/ Session)
Women's Upper Legs
Women's Lower legs ( Knees included)
Men's Chest
Men's Abdomen
Men's Shoulder
Men's Lower Back
Men's Upper Back
Men's Lower Arms
Men's Upper Arms
Men's Buttocks
Men's Bikini
​
Extra-Extra-Large Area ($275/session)
Men's Upper Legs
Men's Lower Legs
Prices are subject to change without notification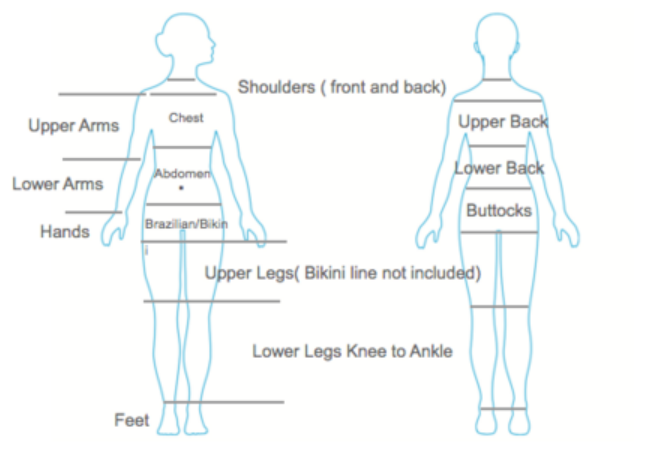 In average body part, it takes 10-12 sessions of treatment for ideal result, facial hair is not subject to the routine treatment sessions ( 15 sessions or more)
Prices are subject to change without notification
Before treating a patient under the age of 18, we must obtain from the patient's parent or legal guardian.
What to expect
It takes more than one treatment to get the most from laser hair removal. We recommend 10-12 sessions every 6-8 weeks depending on area treated. Treatment can vary based on the area you are treating, the amount of hair you have, and the speed at which your hair grows. To achieve ideal results, we recommend a touch up sessions as needed. ( Facial hairs has faster growth and if there is a hormone imbalance, it may needs more sessions of treatment)
Please keep it in mind some ladies may have a hormonal imbalance that causes excessive facial hair (hirsutism) you may need to consult with your primary care physician before you star your laser treatment for best results. Facial hair doesn't follow the recommended number of sessions and might take more than what is expected, please make sure you consult with your physician first!
All laser treatments are performed by our Nurse Practioner or Physician Assistant licensed by the Medical Board of California under the supervision of our Medical Director licensed by the Medical Board of California.
Treatment may take from a few minutes to an hour depending on how many areas you are treating.
Our technology is PAIN-FREE! You will NOT need numbing cream!
Restrictions:
We can not perform Laser Hair Removal on Pregnant ladies or patients with Diabetes, skin cancer, tattoo, epilepsy, active infection of herpes simplex in the area of the treatment and any disease (especially auto-immune disease such as Psoriasis and Vitiligo, skin discolouration maybe stimulated by light at 810 nm or 755 nm.
Cancellation Policy
At Medical Aesthetics our goal is to provide each of our valued clients with quality individualized medical care in a timely manner. No-shows, late shows and cancellations inconvenience other individuals seeking our services. We would like to remind you of our policy regarding missed appointments. If it is necessary to cancel your scheduled appointment, we require that you call at least 48 hours in advance. In order to be respectful of all our patients, please be courteous and call our office promptly if you are unable to show up for an appointment. Appointments are in high demand, and your early cancellation will allow another patient access to timely medical care.